Lisa Di Donato
Ontic Glow #16

2020, Tintype, 8 x 10 inches.
"Beyond Ghirri's garden screen and our digital displays lay inaccessible scenes, present and visible, layered, flattened, and detached. Normal and yet totally unnatural. Ghirri stayed close to home, and I don't even leave my living room. In Google Earth exists a world so entirely mapped, only the peripheral places, the ones not yet of a high enough fidelity for true commodification, are the last refuge. We ask Google to show us what to see before ever seeing it for ourselves so that by now everywhere is familiar but strange. Liminal spaces are fleeting, but reveal the memory of our memory of what the future should have been."
Website
Instagram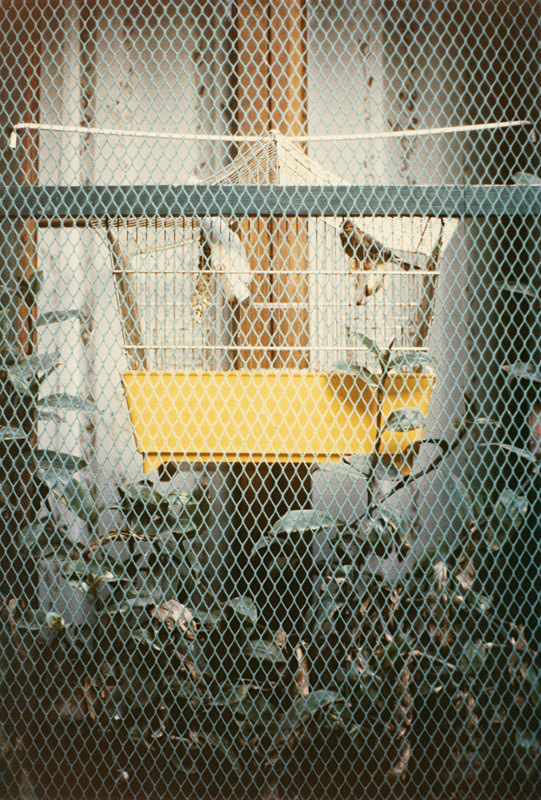 Luigi Ghirri


Modena
1972, C-Print, 6 11/16 x 4 3/4 inches.

"I take photographs in color because the real world is in color, and because color film has been invented."
(quote via thespaces.com)

Vlado Nedkov
Florian Hetz – Vincent (CENSORED)
2020, Inkjet print and acrylic on Canson Infinity paper, 5" x 6.5," image, 8.5" x 11" sheet, Photography © Florian Hetz.
"Growing up gay in Bulgaria meant concealing my sexuality and fantasizing about a reality that seemed just out of reach. In this series of "censored" homoerotic photographs - collaborative works with German photographer Florian Hetz - I decontextualize the explicit to reveal a more tender aspect of desire. In Luigi Ghirri's photograph, the caged birds placed behind a wire fence speak to the geometric grid and confinement of the subject matter in my work."
Website
Instagram
88 Eldridge St. New York, NY 10002