← Return to Storefront Exhibition Series


Essential Services

Zorawar Sidhu and Rob Swainston

Sept 3rd - 24th, 2020
601Artspace, 88 Eldridge Street
Save the date: The artists will be hosting a socially-distanced sidewalk chat with visitors on
Saturday, Sept 12th from 1-4pm.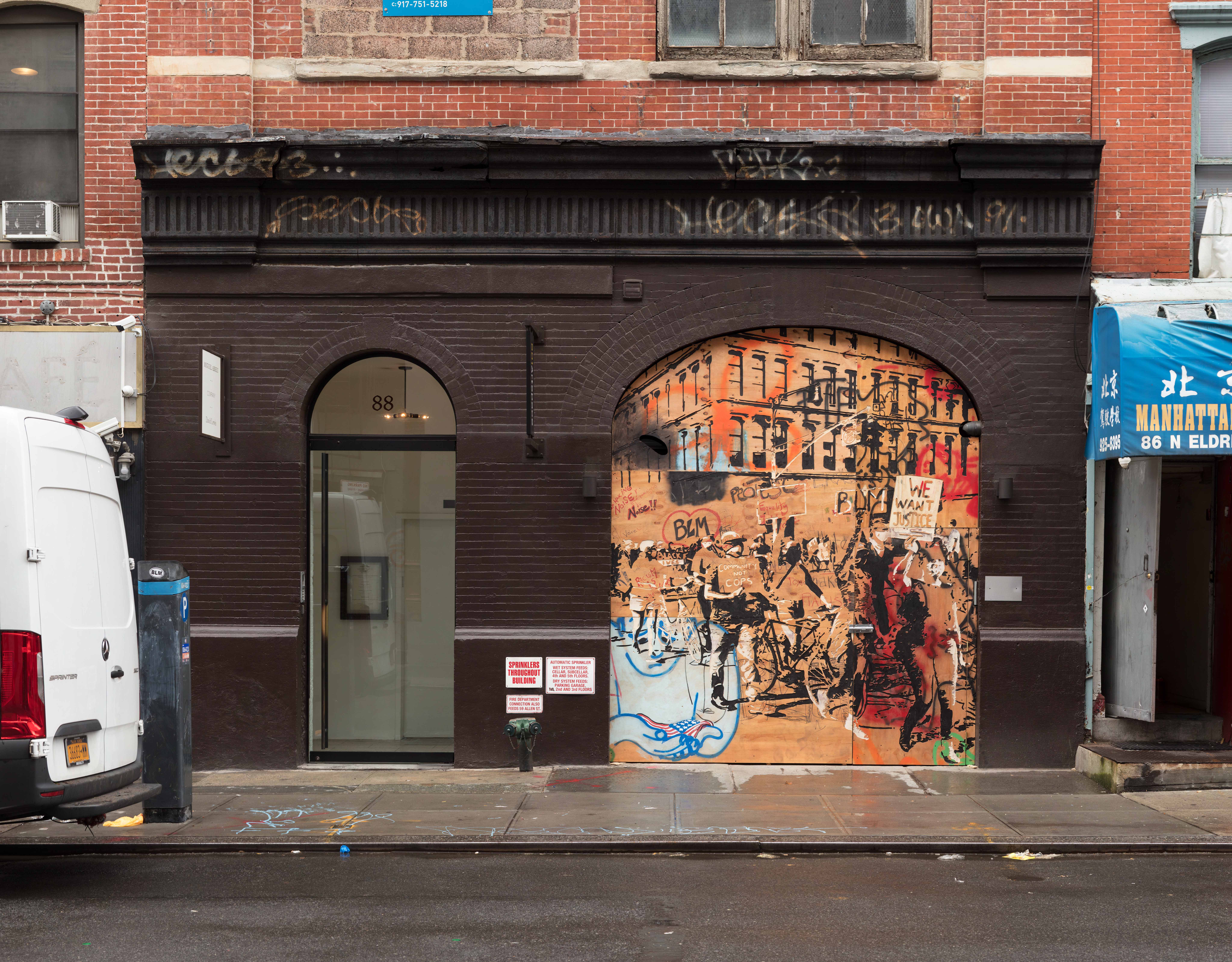 Essential Services is part of 601Artspace's Storefront Exhibition series, which features site-specific installations that use only the exterior facade of our gallery space, and are designed to be viewed from the outside.

Artists' statement:

As largely peaceful protestors filled the streets of cities around the world in response to the racist murders of George Floyd, Breonna Taylor and Ahmaud Arbery, among others, many of Manhattan's retail storefronts and institutions boarded up their windows with plywood.

This installation is built from rescued plywood that once shielded the facade of a major Manhattan museum. A conceptually charged material, it was intended to protect institutions and property, yet became a surface for the public to express itself through graffiti. In collaboration with these public voices, we have added a carved image of a recent public protest in New York City. Our carving and inking of this image references woodblock prints, a medium that has fueled anti-authoritarian movements for centuries by facilitating the mass distribution of ideas. By returning this material to the public as artistic, personal and political expression rather than institutional protection, we transform a physical remnant of the protests into a monumental statement of solidarity.




Zorawar Sidhu and Rob Swainston are a collaborative art duo exploring the intersection of historical print processes and digital fabrication technology. Their projects investigate the complexities of contemporary social issues, drawing from the history of print as the medium par excellence of social movements.

Zorawar Sidhu is an Indian-born artist based in New York City. His projects entail the recreation of art historical artifacts through the combination of contemporary technological processes and historical materials and techniques. He received a BA in the History of Art from Johns Hopkins University, a BFA from the Pennsylvania Academy of Fine Arts, and an MFA from Hunter College. He has exhibited projects with galleries and museums nationally, including solo exhibitions with Marginal Utility Gallery in Philadelphia, Spring/Break Art Show with Field Projects Gallery, the Museum of the Pennsylvania Academy of Fine Arts, and the Museum of The Town of Vestal, NY.

Rob Swainston is currently Assistant Professor of Art+Design in Printmaking at SUNY Purchase College. Born and raised in rural Pennsylvania, Rob studied art and political science at Hampshire College, and subsequently lived and worked in Central Europe, pursuing postgraduate studies in political science at Budapest's Central European University. He received his MFA in visual arts from Columbia University in 2006. He attended the Skowhegan School of Painting and Sculpture in 2007, the Marie Walsh Sharpe Studio Program in 2009-10, the Provincetown Fine Arts Work Center (winter 2011-12), the Bronx Museum AIM program (2015), the Robert Blackburn Printshop Fellowship (2012), and is alumnus of the Philadelphia art collective Vox Populi. Rob is a cofounder and master printer of Prints of Darkness, a collaborative printmaking studio in Brooklyn, NY. He has had solo shows with Marginal Utility, Philadelphia (2016,2013); University Galleries Illinois State (2016); Neuwerk Kunsthalle, Konstanz, Germany (2012); Esther Massry Gallery at the College of Saint Rose, Albany, NY (2011); David Krut Projects, NYC (2010); BravinLee Programs, NYC (2010); and Vox Populi, Philadelphia (2008 and 2009).


88 Eldridge St. New York, NY 10002