KS Brewer

Pain/ Pleasure Diptych
2017, 00:16 sec. loop, two-channel stop motion video including paper, ink, acrylic paint, oil pastel, beeswax.
"The fervent force of 'FUCK' and the unspoken implication of 'YOU' drive both these pieces in their response to some unknown circumstance or presence outside of their colorful, painted displays of emotional power. In my diptych, both portrait's subjects are pushed and pulled by the animation, but one figure reacts with pain while the other reacts with pleasure. The boundary between pain and pleasure is blurred to confuse the viewer - is the subject a victim or a willing participant in her own oppression? In contrast with much of Powhida's more blatant critiques, '
You'
shares this ambiguity and asserts an impassioned response to the 'powers that be.'"
Website
Instagram
William Powhida


You
2010, graphite, watercolor, acrylic and oil on panel, 24 x 18 inches.

"I don't have any plans on abandoning text – I think I would sooner abandon art and go into writing, or filmmaking, or video, because I think it's a narrative and not just language."
(quote via sfaq.us)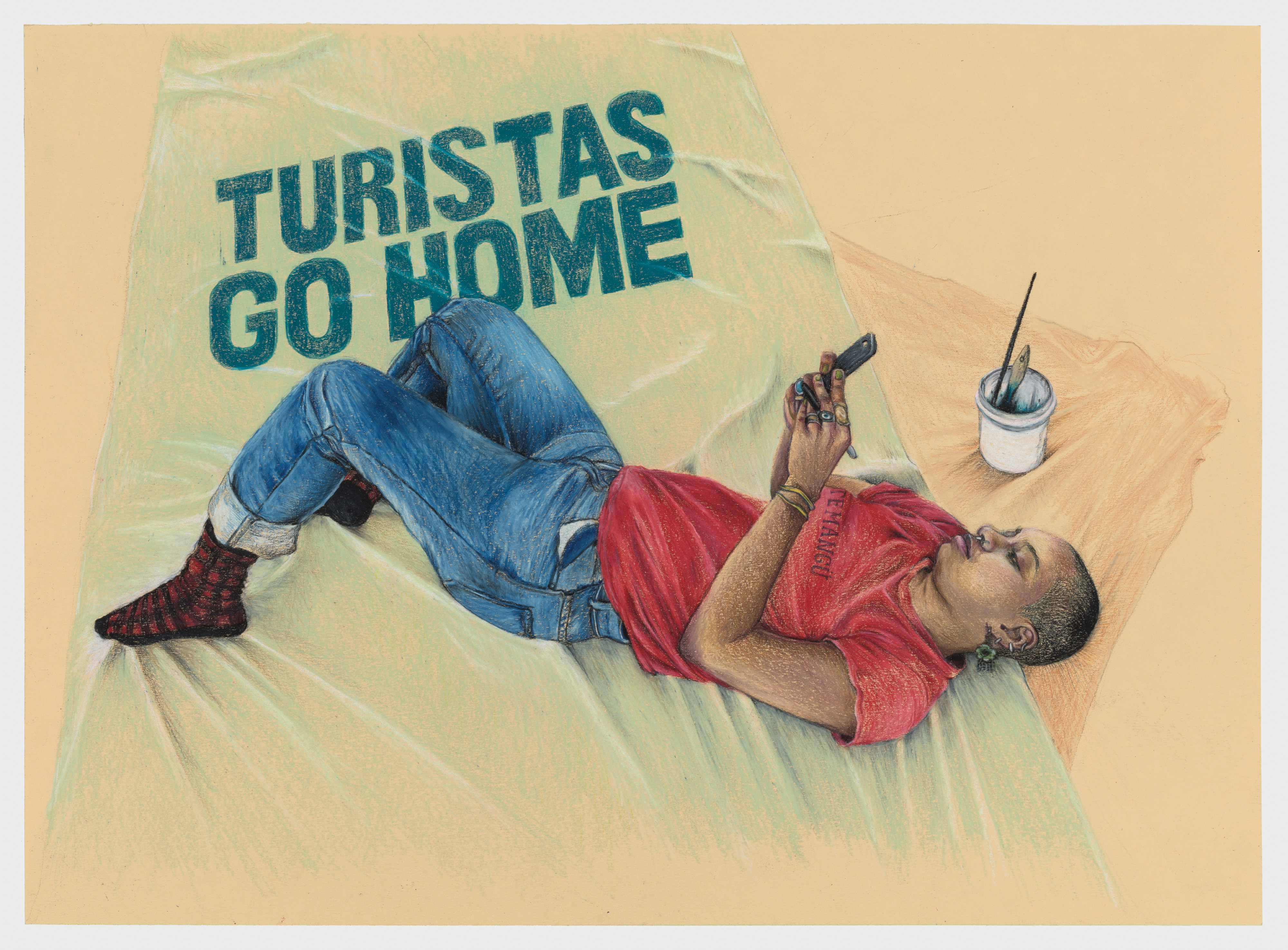 Shellyne Rodriguez

Hillary Paints a Banner
2020, color pencil on paper, 14 x 19 inches.
"Powhida and I both have a lot to say with regard to politics. I like the provocation of 'Fuck You.' 'Hillary Paints a Banner' is also a fuck you. This drawing archives part of a banner that my fellow Bronx community members created and unfurled on the Bronx stairs now made famous by the 'Joker' movie. It was part of an FTP Action in January intended to show how gentrification, speculation and the criminalization of the poor go hand in hand. It's a fuck you to the police, the politicians, and to the developers that want to exploit a cultural moment at the expense of the people. I believe we need to archive our experience as poor black and brown revolutionaries under the constant threat of erasure."
Website
Instagram
88 Eldridge St. New York, NY 10002